Automated Pitot Static Tester
Automated Pitot Static Tester
(for Helicopters & non-RVSM aircraft)
Code: PN# RA-6200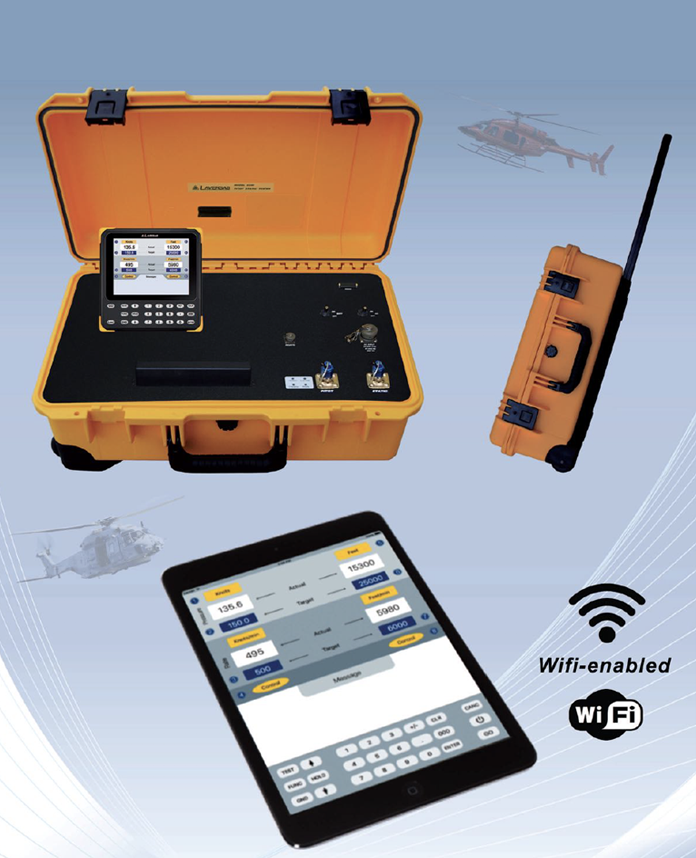 The Model 6200 is used to perform leak-checks and accuracy checks on the Pitot Static systems of non-RVSM aircraft. Accuracy checks are typically performed on altimeters, airspeed indicators, and VSI's. The high accuracy of the Pitot output is ideally suited for checks at low airspeeds. The Model 6200 is equipped with a Remote unit which includes a keypad and a large sunlight-readable display. An internal 8-hour battery ( optional) makes the tester completely portable. The wide operating temperature (optional) makes it usable in any environment. The "Profiles" feature makes it very easy to use. Calibration is required only once a year. The 6200 is also WiFi-enabled, which enables wireless remote control using an iPad or other tablet. The Model 6200 is the ideal Pitot Static tester for helicopters and non-RVSM aircraft.
Features
Fully automated, high-precision control
Profiles - 15 profiles with 50 points each
"Jog" - Change targets in steps of 1 foot or 1 knot using arrow keys
Altitude offset connection
Programmable Limits
Protection against negative airspeed
Self Test checks all internal functions
"Go To Ground" feature
Automatic ambient-pressure sensing
Manual vent valves for emergency venting
Independent or simultaneous leak-checking on Pitot and Static outputs
Instant leak-rate display enhances leak-detection
3 Leak-tinkers can be programmed for timed-leaks between 1 and 20 minutes.
Aircraft instruments protected against large leaks
Strong pumps have minimum 5000-hour life
Calibration required only once a year
5.8" ultra-bright sunlight-readable color display
The keypad allows for easy and reliable data-entry
Internal battery (optional) provides 8 hours of operation
Optional extended temperature for cold climates
Pull-out handle and wheels for easy portability
Power requirement
90-260 VAC, 47-440 Hz ; 100 W (200W "with heaters) Optional Internal battery: 8-hour operation
Interfaces
Wifi, RS232 ; Encoder optional
Dimensions & weights
Main unit: 22" x 14" x 9" / 30 lbs Remote unit: 6" x 6" x 1" / 1.8 lb.
Environmental specs:
Operating temp: 0° to 50°C; -40° to 50°C (optional)
Storage temp.: -40° to 75°C
Humidity: 5 to 100%