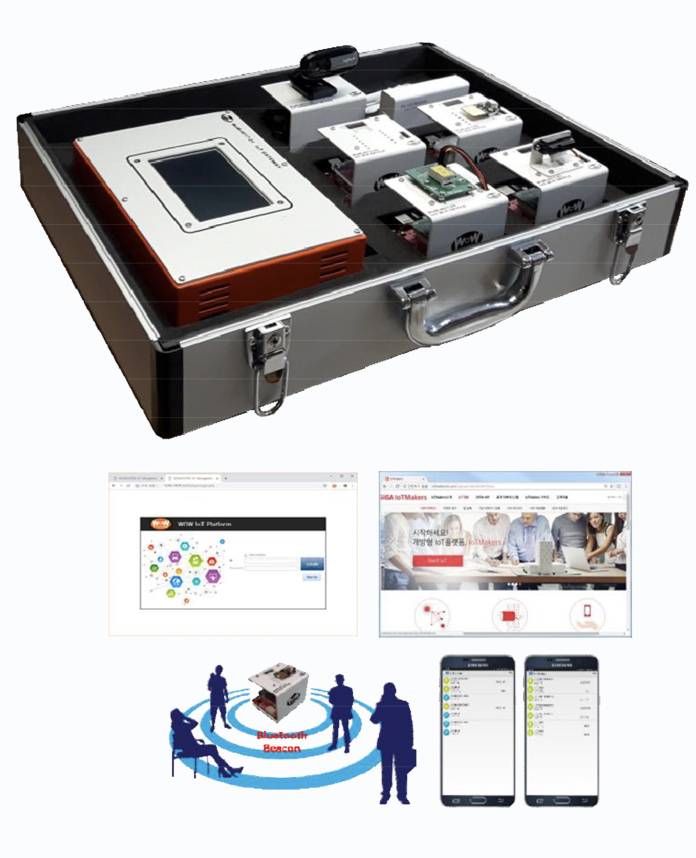 Brand: COZMOS / KOREA
PN#: CZM-4017
Price: call
KT GIGA IoTMakers Compatible Program Certification
It is easy to connect and test IoT devices through the IoTMakers, and IoT services can be created through the data management and OPEN API provided.

Device management through IoT platform, the status of devices through the Dashboard, real-time data monitoring, and device control through Android App. - Telecom IoT Cloud Platform available (KT IoTMakers) - Build own IoT platform available (Optional).
IoT Smart Device production
You can build and practice your own Smart Device using 20 different sensors and actuators.

WIFI Communication-Based Device Production / BLE(Bluetooth Low Energy) Communication-Based Device Production.
Device Individual Connections and Group Connections Practice available
Wi-Fi Direct connection practice
Group Connection using Gateway - WIFI Communication-Based Device / BLE(Bluetooth Low Energy) Communication-Based Device
Features
Enable to understand IoT technology element
Basically, onboard the microprocessor to IoT Device and enable apply the various sensor module to practice
Support the IoT Device with applied Bluetooth Low Energy module (BLE Device) and Wi-Fi module (Wi-Fi Device)
IoT Gateway collects sensor module data of intelligence device using BLE or Wi-Fi and transmit the sensor data to IoT Platform and transit the received data from IoT Platform to device
BLE or Wi-Fi intelligence device built in the battery to operating with commercial power and emergency power as well so that easy movement and convenience practice under BLE or Wi-Fi area
Support 27 kinds of sensor or Actuator modules to various IoT device practice
IoT Embedded Gateway enables auto-detection and management of the operating IoT device
Enable monitoring or control the IoT device through IoT Platform based on Web and possible to interworking setting with different IoT device
IoT Device data be able to remote monitoring and control by PC and Mobile through Server based on Web