Refrigeration and Freezing Trainer
Refrigeration and Freezing Trainer
Brand: COZMO / KOREA
PN#: CZM-2000
Price: call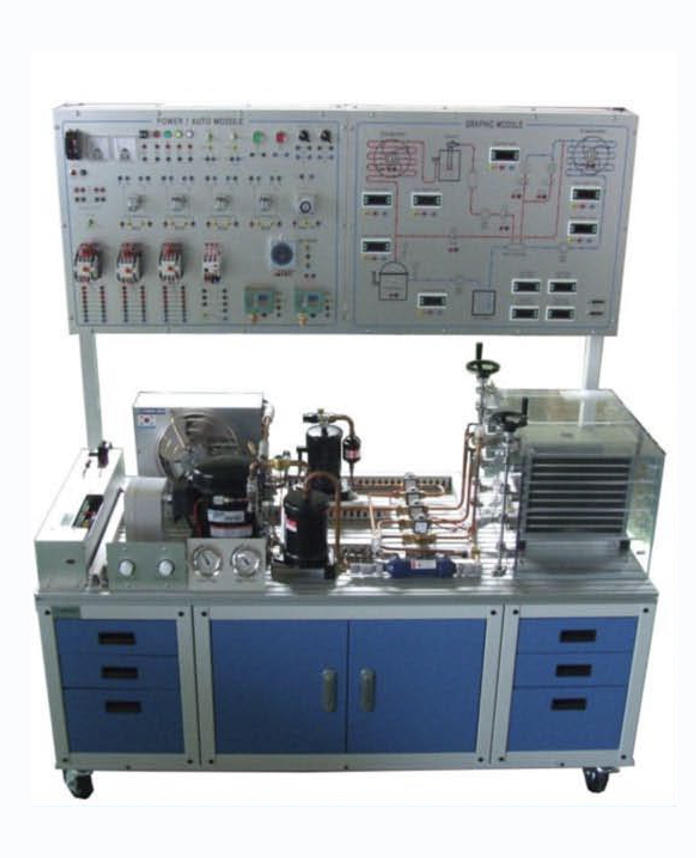 Description
The possibility of

the

experiment on temperature, pressure defrosting auto control of the automatic pressure-control device, and mechanical

trouble

A check of change of the refrigeration system according

to expansion valve's shape and function with connecting

expansion valve of other types.

The experiment on cycle change of refrigeration equipment

according

to

temperature and Mollier diagram drawing in

P

-

1

diagram drawing part.

Theoretical education of efficiency test and experiment

while operating.

The sequence screen attached to the graphic module control department and power automatic control machine

for the experiment

on temperature

, pressure, and automatic

control

and operation.

The control department is made up of visual lamps

separated system from the machine department.

Automatic

contro

l

with the graphic panel and two automatic

control modules.

Data formation by data auto-saving and P-1 diagram auto

operation in the system with the control program.
Specification
Compressor: 1/2HP,

Condenser: Air-cooled type
Evaporator: pin, Tube air-cooled type
Evaporator chamber, damper 320*350*500, damper
Expansion Valve: manual type 1ea capillary tube type 1ea
Liquid receiver: 1/2HP
Accumulator: 1HP
Electronic valve : 3/8" nut clamp type
Manometer
Fitting nipple
Sight Glass
Electric control module: DC24V
Graphic module: digital DC24V
Thermostat range(?ea) : -40°C~100°C
Pressure switch range :
Low side : 0bar~5bar High side : 5bar~30bar