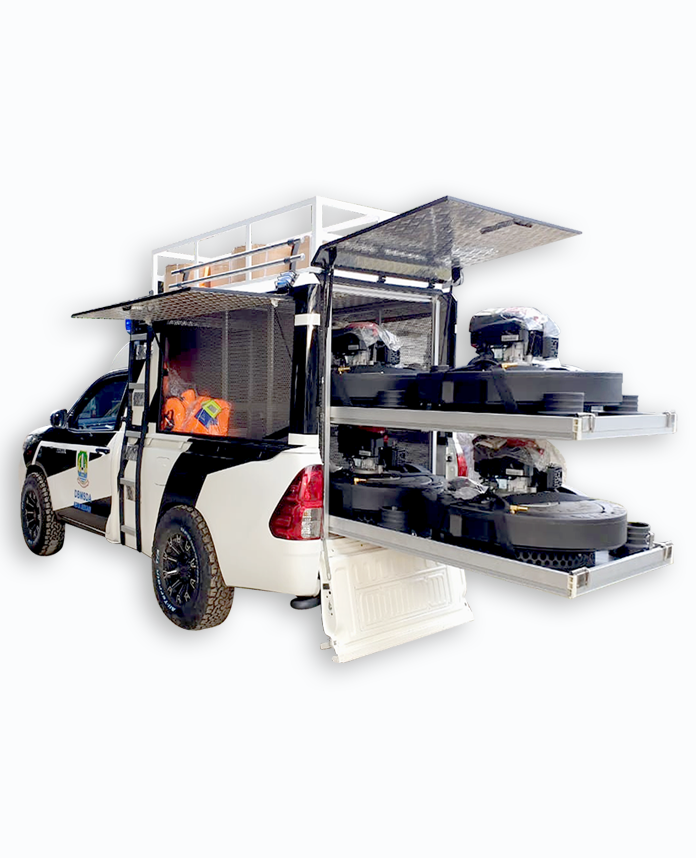 This Mobile Pump Very Quick Reaction for flood prevention. It is very suitable to cope with flood conditions:
Stagnant water on the road due to flooding, which causes traffic jams.
Inundation of floodwater in people's housing.
Inundation of floodwaters in urban areas.
Fire prevention for wetting peatlands.
Features
Consists of 4 (four) units of the Floating Water pump (water pump).
Total capacity 12,000 l / minute.
The capacity/discharge of each floating pump is 3000 liters/minute (3 m3 / minute).
The weight of each pump is 42 kg.
Using your own motor, easy to use.
The length of each standard hose is 100 meters/roll, there are 4 rolls.
PE Layflat Hose material, 6-inch diameter.
Each pump is equipped with one (1) additional fuel tank with a gasoline capacity of ± 22 liters so that it can be used continuously for ± 15 hours or pumping ± 2 million liters of water.
Additional accessories each pump is equipped with 1 set hose bridge.
The pump is light, portable, and can be carried in the trunk of a car.
Pumps are compact and economical to use.
The pump floats on the water and settles down at low tide.
Stand-alone motor pump engine, no need for electricity.
The pump body is impact-resistant, so it is durable and long-lasting.
Pump Specification
Pump Type: Floating Pump.
Pump Brand: WARTHOG
Country of origin: Canada.
Engine specifications (engine); Brand: KOHLER; Power: 5.5 HP; Type: High Output OHV; Lubrication: Oil Splash; RPM: Variable to 3600 rpm; Emissions: Meets or exceeds all US EPA PH2 & EC Stage II
Pump size and material; Pump weight: 42 kg; Length: 915 mm; Width / diameter: 720 mm; Height: 535 mm; Body Material: Polyurethane (Strong material, no easy to crack & resilient); Impeller Material: High Strength Composite.

Gear pumps using Steel.

Camlock technology allows for a strong Hose connection binding so it doesn't come off easily).

The hose is strong and flexible.

The product has been certified.
Car Specification TOYOTA Pick up New Hilux S 2.4 Diesel 4x2 M/T
Engine / Engine

Engine type: 2 GD-FTV, 4 cylinders, in Line 16 Valve DOHC with VNT Intercooler.
Bore x stroke: 92.0 x 90.0 mm
Fill Cylinders / displacement: 2,393
Maximum Power: 149.6 /3.400 rpm.
Maximum engine torque: 35 kgm / 1,400-2800 rpm.
Fuel System: Common Rail Fuel Injection
Tank capacity: 65 lt.
Type: Diesel
Shaft Distance: 2,750 mm
Steps: #Front: 1,510 mm #Rear: 1,510 mm
Suspension: #Front: Double Wishbone #Back: Leaf Spring Rigid Axle.
Chasis and Transmission; #Control system: 2 WD, #Transmission: 5 M / T;
Wheels and Wheels: 205/70 R15 Steel; Proposed Wheel: 205/70 R15 Steel.
Dimensions and Weight; Overall: L x W x H: (4,930 mm x 1,800 mm x 1,685 mm); Shaft distance: 2,750 mm

Galvanized steel material, thickness min. 1.2 mm, fixed using Silicone adhesive.
Can accommodate 4 pump units along with hoses and accessories.
Sliding system for pump access, Hose Rack, Light Bar.
Variation lights and spotlight.
Box model.
Painting the entire body for the color of the vehicle as requested.
Installation of the logo using 3M scheelite stickers.
Making the front bumper: plate material and iron pipe.
Manufacturing of the rear bumper: plate and iron pipes.
Overall Box Body Dimensions:
Length of the box: 2350 mm (from rear to cab).
Box width: 1575 mm.
Box height: 1800 mm.
Overall height of the pump car from the ground: ± 2800 mm.
The overall length of the car from front to rear: ± 5260 mm.